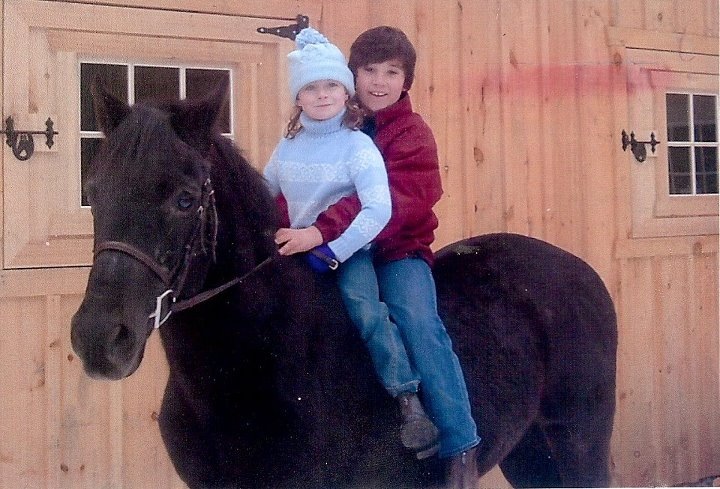 Ten years ago our son started riding horses at a little hidden farm in Richboro Pennsylvania that converted an old cow barn into a horse barn. The barn was so close to our house the rest of the family started taking lessons there too. One thing led to another and before you know it we were boarding three horses at the farm.
In 2004 the then owner of the farm let us know that she planned to sell the farm to a developer that was planning a 13 home development on the site. With farms that were once the norm in Bucks County Pennsylvania rapidly being absorbed by developments, we could not let that happen to the farm we have come to love, even in its rapidly deteriorating state. We were able to strike a deal with the owner to buy the farm and allow her to run her business there continuing to train us and our horses
Thrilled with "buying the farm" we had no idea what we were getting into. While getting some groceries at a local farmers market a cardboard sign outside the market caught our eye. We called Jane Delbianco and visited with her at her farm not far from us. After visiting almost every barn between Maryland and Lancaster we decided to have Sylvan Sylvan Stoltzfus Builders LLC build our barn.
This turned out to be one of the best choices we made. Our 20 stall custom barn boasts state of the art equipment including fly spray system and six car wash like wash stalls. Working with Sylvan and his team was a cultural, educational and wonderful experience for our family. We were impressed how well they were able to accommodate our technology needs knowing that it would not be something they would have in their own barns or houses. A great example is the wood sliding panel they built to hide our electric panels. In May 2010 Sommerfield Stables moved into our Water Stream Farm, nestled against miles of trails through Tyler State Park in Bucks County Pennsylvania. Sommerfield Stables is a premier riding academy that trains at all levels from beginners to top champions.
For more information, please contact Sommerfield Stables at 215-801-6398